Strong squall line knocks out power, floods roadways
Smithown, NY (SmithtownRadio.com) – A powerful line of thunderstorms pushed across the greater-Smithtown area Tuesday night and put portions of Nesconset and Hauppauge under the threat of a possible tornado.
The storms brought severe weather to much of the tri-state, which saw mainly damage from strong winds. Wind gusts topped near 50 mph Tuesday.
A motorist became trapped in their vehicle Tuesday evening along Route 25A in Kings Park after a period of heavy rain associated with a severe thunderstorm flooded the roadway. That same storm brought down branches and power lines in Nesconset along Browns Road around 10:30 p.m.
Portions of southwest Suffolk County were placed under a Tornado Warning as a thunderstorm containing radar-detected rotation was observed near Gilgo Beach. That warning included portions of the greater-Smithtown area as the storm pushed to the northeast. As of 2 a.m. Wednesday, there was no indication from the National Weather Service a tornado ever reached the ground.
Several hundred LIPA customers across the greater-Smithtown area were without power following the storm. At one point, the outages islandwide topped 13,000 customers.
With the passage of the storms and the associated cold front, temperatures were expected to be cooler with less humidity over the course of the next few days.
Hyper-local Weather: SmithtownRadio.com Weather  Center
SmithtownRadio.com, along with our weather friends, provided real-time information about the storm via Twitter. Here's a look at some of those messages.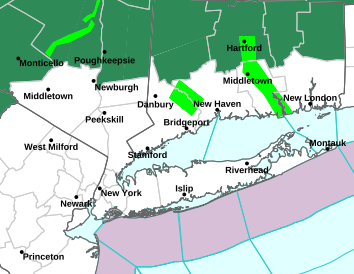 **This is a developing story. Refresh this page for the latest information from SmithtownRadio.com